Shadow Lan Gift Certificates!
Time to start thinking about that gamer in your family or friends! Get the perfect stocking stuffer from Shadow Lan!
Shadow Lan Gift Certificates are now available! Pick some up and get your Christmas shopping done early!
.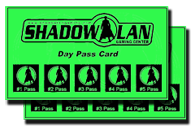 Shadow Lan Day Pass Cards!
Want to get a party started? Get the Shadow Lan Day Pass Card!
FIVE DAY PASSES for less than the price of four!